March 1st SHOWCASE!
Here it is: the first Open House and Showcase 2014 of the Los Angeles Bellydance Academy is around the corner! On Saturday, March 1st you should be there dancing and sharing your love for dance with us.
This time the ONE and ONLY beautiful Jayna will teach a special 2,5 hours SWORD workshop. Yes, you heard read it right – SWORD! This prop is so interesting, because even though everybody has a picture in their minds of a mysterious Bellydancer dancing with a sword, but so few of us actually use this prop in our shows. To tell you the truth, I'm personally a little scared of the sword, but that's exactly why I was the first one to sign up for this workshop!
Have you seen how graceful and beautiful Jayna is bellydancing with the sword? Here is the link to one of her recent performance. My point is – who else can teach you better than Jayna?! She has been dancing with the sword for a long time and I'm super excited to study from her.
The spaces in this workshops are limited, so make sure you sign up for the workshop as soon as possible! LABA also offers few swords for this WS, so be the first one in line.
LABA Showcase is another topic I wanted to tell you about. My dear teacher Miri Alon used to tell me to not ever take the audience for granted. And I never do! I know how busy everybody are, how difficult LA traffic makes it for everybody to get around, how hard of a task is to commit… I'm always very grateful when YOU find time to come and support the LABA, our beautiful students and teachers. It means so much for each one of us.
This time my Introduction to Bellydance class will present you the combinations we've learned in the last 8 weeks and I'm so proud of my students to be so brave and great! You won't believe it, but they've been dancing for only 8 weeks! However, the love to bellydance does its job! 🙂
I'll be dancing myself! I'm so proud to share the stage with my students, friends and other teachers. This showcase will be truly special, because ALL LABA faculty will be performing! Jayna, Sherri Wheatley, Leolani and Stefanya will perform too!
Although the LABA stage is pretty small, we will show you some great and big stars 🙂
So make sure you bring yourself, your joy and your best friend! Did I tell you the Showcase is FREE?! Absolutely free!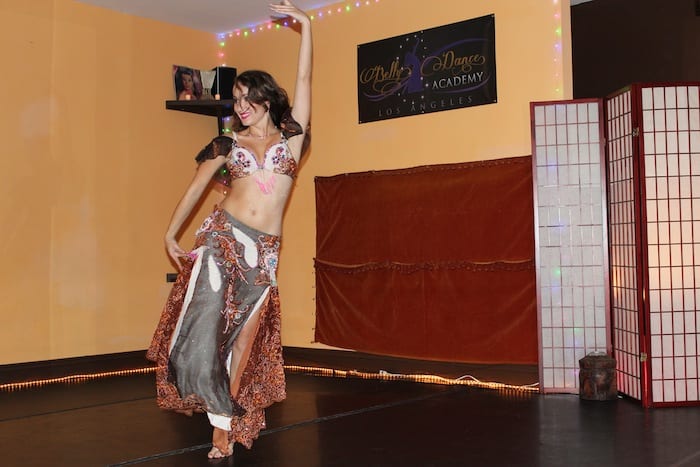 LABA is preparing some wonderful surprises for you! Raffle with a whole Bellydance Session being the prize! Somebody will win my next Introduction to Bellydance session for free!!! Special deals for upcoming classes and events will be there. Remember the Fashion second-hand boutique we had last time? We'll have it again, so bring some cash. And be ready for other great surprises!
I hope I said enough and you all be there! 🙂 Come show your support! And have fun!